Source – nationalpost.com
"…We're going through a time here in the West of bizarre happenings, strange and new fads and fancies, ideas that darken common sense and practices — self-declared "ex-men" breaking in to female sports, serious professionals being disciplined or fired for (horror) insisting that "a man is not a woman," a teacher wandering into school with what appears to be the Goodyear Blimp under a tight sweater"
Scotland's Nicola Sturgeon quitting is the transition we need
This may mark a real turning of the woke tide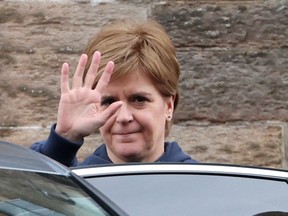 We're going through a time here in the West of bizarre happenings, strange and new fads and fancies, ideas that darken common sense and practices — self-declared "ex-men" breaking in to female sports, serious professionals being disciplined or fired for (horror) insisting that "a man is not a woman," a teacher wandering into school with what appears to be the Goodyear Blimp under a tight sweater.
There is a whole lot about this radical movement — and please do not contend that of all the woke contortions of our days that by a self-administered gender baptism a person male from birth for 30 or 40 years can be, must be, and is regarded in some cases by law or administrative rule as a woman — is not radical. (Should anyone want a primer on the subject, a whole series of columns by Barbara Kay in the Post will be all the introduction needed.)
NP Platformed
The NP Comment newsletter from columnist Colby Cosh and NP Comment editors tackles the important topics with boldness, verve and wit. Get NP Platformed delivered to your inbox weekdays by 4 p.m. ET.Email AddressSign Up
By clicking on the sign up button you consent to receive the above newsletter from Postmedia Network Inc. You may unsubscribe any time by clicking on the unsubscribe link at the bottom of our emails or any newsletter. Postmedia Network Inc. | 365 Bloor Street East, Toronto, Ontario, M4W 3L4 | 416-383-2300
Article content
And please do not contend that administering chemical and/or surgical "remedies" on (particularly girls) adolescent and pre-adolescent young people, altering or blocking the progress of their puberty or, literally, excising body parts, is not radical; is not extremely reckless, extremely cruel, and on top of both, absurd.
Advertisement 3
STORY CONTINUES BELOW
This advertisement has not loaded yet, but your article continues below.
Article content
There is also on the part of this transgender movement, especially its most ardent evangelists, a ferocity and anger directed — mostly against women and parents who in genuine concern oppose it — that is frightening.
To take the most famous example, the vitriolic language and threats of menace directed at J.K. Rowling is beyond appalling. In any other context that language and those threats would be treated as "hate speech." Prosecutions would be initiated, human rights tribunals would be stumbling over each other holding hearings, internet sites would be shutting down accounts and banning offenders. I should add that Barbara Kay and other female writers on the subject have tasted the same cost, in fury directed at them personally, of opposing the radicals, or for speaking up on behalf of women and girls.
Advertisement 4
STORY CONTINUES BELOW
This advertisement has not loaded yet, but your article continues below.
Article content
The speed with which this novel overreach has spread is amazing. Amazing too how so very, very many institutions, corporations, news media, school boards and universities have utterly capitulated to this new "right" and how quickly they have capitulated. It has entered the curricula of the schools, corporations offer "training" in "gender sensitivity," lists of "desired pronouns" are issued for the guidance of that silly few who still cling to the idea that the human species is — yes — binary, that it is comprised of just two sexes, and within that binary there is male and female, whose biological reality is, shall I say, constricted.
The cardinal point and very centre insisted upon by the radical activists of the transition movement is that it hinges on the most utterly untestable of grounds.
Advertisement 5
STORY CONTINUES BELOW
This advertisement has not loaded yet, but your article continues below.
Article content
Self-declaration.
A man merely states, simply says — "I am a woman" and that utterance and that utterance alone is supposed to provide the concrete foundation for this "fact." Newspapers — including this one — obligingly refer to the former "him" as "her," the "he" of all his past life becomes a "she" in all "her" future life. More outlandish by far, when a male rapist announces on detection and capture that the up-to-then male rapist, that "he" is now a woman — even the courts oblige.
And when this newly self-baptised "she" insists, as one of "her" very new rights that "she" be installed in a women-only prison — well off he-she goes — to the torment and dread of "her" new cell mates.
This is not an extravagant example. It is a real life one. In Scotland, a double-rapist, declared his vile, violent male self (Adam Graham — pre-capture), (post-capture — Ilsa Bryson) a trans woman. Entitled to all the accommodations belonging thereof, and was obligingly placed in a women-only prison. And received them.
Advertisement 6
STORY CONTINUES BELOW
This advertisement has not loaded yet, but your article continues below.
Article content
The Scottish Prime Minister, herself a woman be it noted, was all welcome to this new mobility between the sexes and has variously been described as a champion of trans rights.
A double-rapist had just to say "I've transitioned — I have joined, and am one, with the sex of my victims" and the justice system of an entire country and its prime minister took an intellectual and moral knee.
As a poet wrote: 'Tis all in pieces; all coherence gone.
RECOMMENDED FROM EDITORIAL
Now it seems, as much for this craven capitulation to fashion and angry trans rights types, as for anything else, Ms. Sturgeon herself has transitioned: she has resigned as Scotland's lead executive. From First Minister to citizen. (The full story is easily researched.)
Advertisement 7
STORY CONTINUES BELOW
This advertisement has not loaded yet, but your article continues below.
Article content
Why have so many authorities, so many school boards — does the Ontario College of Psychologists have anything to say on this — succumbed to this defiant nonsense, this game? Why have so many medical authorities either approved of "gender affirming" surgeries on young people — or held cowardly silent.
Events in Scotland may mark a real turning of the tide on the latest "strange and new" philosophy. The raging anger and vitriol of trans' loudest supporters may have injured themselves more than J.K. Rowling.
It may even be that poor and weary, but time-tested and true, common sense is rousing itself to rout the nonsense and absurdist invasion of the entire woke mentality.
The day will come when pronouns will no longer be used to enforce conformity and are returned to the grammar textbook — but perhaps that is too wild a hope.
Best to consult Jordan Peterson on such matters. He's really good on pronouns.
Yet, perhaps, too much of a stickler.
For example, he still believes "literally" means literally.
https://nationalpost.com/opinion/rex-murphy-scotlands-nicola-sturgeon-quitting-is-the-transition-we-need