Source – nationalpost.com
'…The Martha's Vineyard crowd were all for illegal immigration, till just 50 — just 50! — showed up on their manicured lawns, impeded their morning cycle to their nose-ringed baristas and — heaven forbid — may have actually stayed in their precious Eden. This is one of the most glorious hypocrisies of our time — and that is quite a triumph, considering the wealth of contenders"
SM:…"These insufferable pious bastards make a clear case for why I'm a big supporter of climate change… especially rising coastal sea waters…."
Rex Murphy: The American left's hypocrisy on immigration
When but 50 South American migrants were sent by the nasty Florida Gov. Ron de Santis to the Vineyard, within 48 hours, they were purged from this Eden
(Also Read: Martha's Vineyard Newspaper Lists 50 Job Ads Despite Claims Of No Work On Island @ https://www.theepochtimes.com/marthas-vineyard-newspaper-lists-50-job-ads-despite-claims-of-no-work-on-island_4738013.html)
If God were a reality TV producer, and thank Him that He is not, He might be inclined to one of those "do-over'" shows.
Q. "Tell us, all mighty, master and creator of the universe, if you were to do it all over again, what would you change?"
A. "Eden, the garden of paradise. I think I'd relocate Eden."
Q. "Wow, folks, great scoop here. The great architect of all the world thinks He'd reconsider Eden. Would you really?"
A. "No question. I think I was a little hasty. Seeing how things have turned out, I'd opt for Martha's Vineyard."
Q. "Martha's Vineyard? Why?"
A. "Well, the scenery is obvious. And it's on the coast. Soft winds from the Atlantic, pastoral views and an abundance of epicurean coffee shops are part of the appeal. Well, the coffee shops, especially. Their beans — shade-grown, it goes without saying — are carried through the rain forests of Columbia on herb-fed, free-range mules, harvested by a dedicated corp of extreme vegans and transported to the Martha's Vineyard in very small sacks on the iridescent backs of (volunteer) orphan butterflies.
"They also have the best-trained baristas, plus — and this is a real add-on — it's such a woke town.
"Martha's Vineyard has to be the most welcoming jurisdiction in my post-creation world. They may be rich in Martha's, they may be ex-presidents and movie stars, they may have mansions that rival some of my own, but riches do not curb their humanity. The people who settle in Martha's Vineyard are all that could be wished for of peoplekind.
"Just look at how Barack and Michelle Obama have chosen to ornament Martha's with their charisma and charm."
Q. "So that's what would be your preferred Eden: lovely place, great services, superb coffee hutches, a sea view?"
A. "Oh, one more thing: they declare their values. There is a sign at the entrance to this marine-kissing utopia that warms my almighty heart. It says: 'We respect women. We value Black lives. We stand with our LGBTQ community members. We stand with immigrants, with refugees, with Indigenous peoples, and with people of all faiths. We stand with our community.… All are welcome here.' "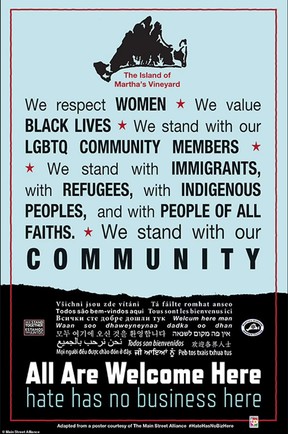 Despite this high praise, the reality of the past few days, besides being a little comic, rather depreciates the Creator's estimate of Martha's Vineyard.
When but 50 South American migrants were sent by the nasty Florida Gov. Ron de Santis to the Vineyard, within 48 hours, they were purged from this Eden.
The most liberal, high-priced, ultra-woke, super-special cloister of the rich and the famous, the high peak of American liberalism, could not accommodate them, so they were sent elsewhere, showing that the greatly well off preach wokeness, but only when wokeness does not show up in the neighbourhood.
It's fine for small towns in border states to absorb a flood of illegal immigrants, but when 50 show up in an enclave of the unbelievably privileged, they're shipped out within 48 hours. Let them not stain our privileged commune by the sea.
And let us not forget that the liberal elite who populate Martha's Vineyard preach not only the virtues of unfettered immigration, but also have a knack for exaggerating the dangers of climate change and telling everyone else what they have to do, while ignoring, or not caring, about the hardships that will be faced by working men and women to achieve their world-changing visions.
When your fuel bill goes up, when your food costs more, when your gasoline is too expensive, the leaders in the fight against climate change will still fly on government jets, still ride in limos and still have expense accounts that totally insulate them from all the havoc in normal people's lives.
The Martha's Vineyard crowd were all for illegal immigration, till just 50 — just 50! — showed up on their manicured lawns, impeded their morning cycle to their nose-ringed baristas and — heaven forbid — may have actually stayed in their precious Eden.
This is one of the most glorious hypocrisies of our time — and that is quite a triumph, considering the wealth of contender
https://nationalpost.com/opinion/rex-murphy-the-american-lefts-hypocrisy-on-immigration