Source – quoththeraven.substack.com
"The dollar hegemony is right about ready to break when you realize that Saudi Arabia is about to join the BRIC nations. Do you think Biden is going to fly there to ask for more oil? He went there to beg them not to join BRIC."…it appears Saudi Arabia has just issued a death knell to the exclusivity of the petrodollar as we once knew it – the first of several dominoes that needs to fall before the U.S. is exposed financially as an emperor with no clothes"
Saudi Arabia Just Killed The Petrodollar
The last 24 hours have marked another major waypoint along the path to my long-held contention that Russia, China and Saudi Arabia are going to make a massive, collective push to try and dethrone the U.S. dollar as global reserve currency.
Anybody who has read my 23 Stocks To Watch For 2023 (or any of my other recent articles discussing how I am personally positioning myself for this thesis) knows that I believe we are on the precipice of an unprecedented era geopolitically.
Put simply, I believe there is a historic divide in the making between the BRICS nations, led by Russia and China, and the West, led by the United States.
I was one of the few outlets last summer to even report on the fact that Russia and China openly announced a "new global reserve currency" (announced in July 2022, predicted by me in February 2022). And of course, Russia and China can't do it on their own: they are working with nations like Saudi Arabia and India to help put their plans into practice.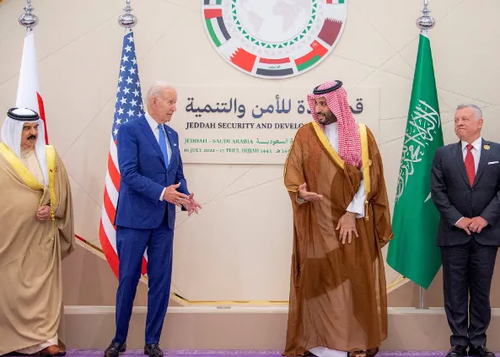 Crucial to dethroning the U.S. dollar would be the removal of its use for buying and selling oil – a system that has been in place since the 1970s when the U.S. promised security for the Saudi Kingdom in exchange for the petrodollar system that underpins the dollar's strength as global reserve currency. It's a topic that I discussed at length back in September with Andy Schectman on this podcast.
Andy told me back in September 2022: "The dollar hegemony is right about ready to break when you realize that Saudi Arabia is about to join the BRIC nations. Do you think Biden is going to fly there to ask for more oil? He went there to beg them not to join BRIC."
"The dollar was made reserve currency only because of our protection of the Saudi kingdom," Andy continued. He then noted astutely that Saudi Arabia had signed new protection agreements with Russia. "All of the Eastern European countries that have repatriated their gold. They're all part of the EU but they all trade their own currency. They're all going to break away from the Western system," he added.
And now it looks like Andy was right: it appears Saudi Arabia has just issued a death knell to the exclusivity of the petrodollar as we once knew it – the first of several dominoes that needs to fall before the U.S. is exposed financially as an emperor with no clothes.
https://quoththeraven.substack.com/p/saudi-arabia-just-killed-the-petrodollar
Related…..
Poszar Was Right: Saudis Confirm Non-Dollar Oil Trade Plans In Davos
Earlier this month, former NY Fed repo guru Zoltan Pozsar wrote one of his most important reports of 2022, in which he described how Putin could unleash hell on the Western financial system by demanding that instead of dollars, Russian oil exporters are paid in gold, effectively pegging oil to gold and launching Petrogold.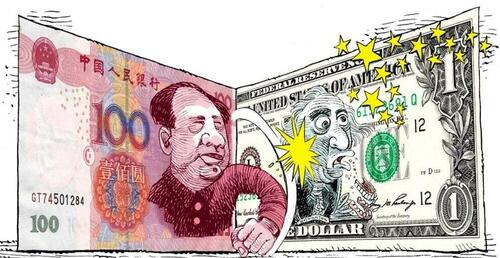 Then, China's President Xi visit with Saudi and GCC leaders marked the birth of the petroyuan and a leap in China's growing encumbrance of OPEC+'s oil and gas reserves: that's because with the China-GCC Summit, "China can now claim to have built a 'special relationship' not only with the '+' sign in OPEC+ (Russia), but with Iran and all of OPEC+."
At the time, Zoltan urged the reader to think of the timing of this statement in a diplomatic sense:
"President Xi communicated his message on "renminbi invoicing" not during the first day of his visit – when he met only the Saudi leadership – but during the second day of his visit – when he met the leadership of all the GCC countries – to signal the following:GCC oil flowing East + renminbi invoicing = the dawn of the petroyuan."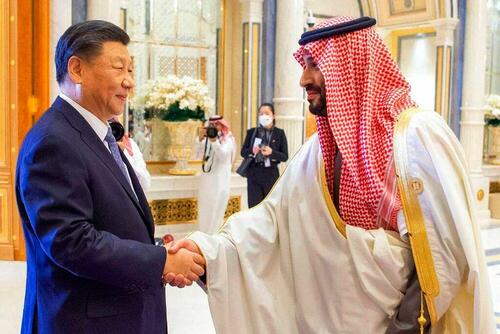 And now, according to Bloomberg, Saudi Arabia is open to discussions about trade in currencies other than the US dollar, according to the kingdom's finance minister.
"There are no issues with discussing how we settle our trade arrangements, whether it is in the US dollar, whether it is the euro, whether it is the Saudi riyal," Mohammed Al-Jadaan told Bloomberg TV on Tuesday in an interview in Davos."I don't think we are waving away or ruling out any discussion that will help improve the trade around the world," Al-Jadaan said.
And echoing Poszar's comments above, Al-Jadaan appeared to confirm The Kingdom's goal seeking to strengthen its relationship with crucial trade partners, most notably China:
"We enjoy a very strategic relationship with China and we enjoy that same strategic relationship with other nations including the US and we want to develop that with Europe and other countries who are willing and able to work with us," Al-Jadaan said.
Saudi Arabia is also working with multilateral institutions to provide support to Pakistan, Turkey and Egypt, as part of the kingdom's largesse to nations it deems "vulnerable," Al-Jadaan said.
"We are providing even oil and derivatives to support their energy needs," Al Jadaan said. "So there is a lot of efforts, but we wanted this to be conduct
Read Full Article @….
https://www.zerohedge.com/energy/poszar-was-right-saudis-admit-non-dollar-oil-trade-plans-davos