Source – capitalistexploits.at
"…Sleepy Joe has forced all Americans working in China to choose between quitting their jobs and losing their American citizenship. As a result, pretty much every American executive and engineer working in China's semiconductor manufacturing industry resigned this last week, paralyzing Chinese manufacturing overnight. As of right now, every advanced node semiconductor company is currently facing a comprehensive supply cut-off, resignations from all American staff, and immediate operations paralysis"
THIS MOVE JUST ASSURED AN INVASION OF TAIWAN
I am going to precede what I am going to talk about here with something else that in itself I would have thought rather noteworthy.
Xi just opened the CCP conference on Monday with the statement that the control of Hong Kong is now "complete" and that "Taiwan is next."
I am pretty stunned that there is — at least as of my writing this — no comment in Western MSM on this.
Now, considering the above, think of the dumbest person you've ever met.
Amplify this person by, say, 100X and then imagine what such a person may do given the above.
You think I'm being overly sensationalistic? I wish I were.
I am still in shock.
Which is saying something because, quite honestly, I feel like I've become pretty impervious to absolute insanity over the last 3 years or so.
Deep breath. Here it is.
The US government just imposed new export controls on China's chip industry.
To put it simply, sleepy Joe has forced all Americans working in China to choose between quitting their jobs and losing their American citizenship.
As a result, pretty much every American executive and engineer working in China's semiconductor manufacturing industry resigned this last week, paralyzing Chinese manufacturing overnight.
As of right now, every advanced node semiconductor company is currently facing a comprehensive supply cut-off, resignations from all American staff, and immediate operations paralysis.
For example, chip giant ASML has stopped providing services and support to mainland China.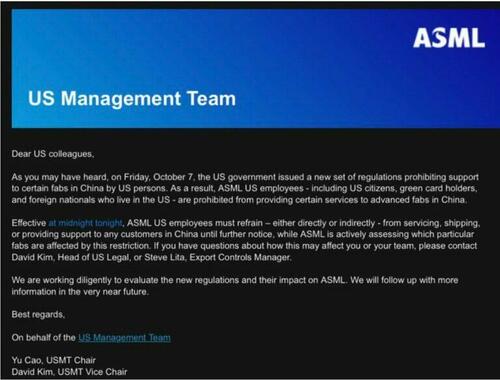 This is a financial war. When do they just start shooting?
So why is this an assured invasion of Taiwan?
Because the only way that China can now restore its chip manufacturing is by going to the largest chip manufacturing plant in the world: Taiwan.
Taiwan Semiconductor Manufacturing Company Limited (TSMC), which is the world's most valuable semiconductor manufacturer, reportedly accounts for over 56% of the global market share of the semiconductor industry.
And with that much dominance in a market that most electronic devices and parts rely on, China having control over Taiwan would give it more power in the semiconductor industry.
Smart investors are already preparing for what's coming…
For those looking to prepare and profit from this mess, wecan show you how. Just click on the links (below my name) to find a solution that works best for you.
Cheers,
– Chris MacIntosh
Related….
What Comes Next In China
Why China Might Take Taiwan Soon
Over the weekend, Sri Lankan geopolitical blogger Dhanuka Dickwella offered an interesting argument for why China might invade Taiwan as early as this winter. I've posted it in full below. Before that, a quick follow up on a bearish Chinese ETF included in a portfolio I presented here last week.
YANG Soars As China Stocks Sink
In a post here early last week ("Underwater in a Bear Market?"), I included a hedged portfolio containing a few bearish ETFs that had hit our top names then. One of them was the Direxion Daily FTSE China Bear 3X Shares ETF (YANG).
Swimming to the Surface https://t.co/xsxdvTglnK$DRV $SRS $YANG $SOXS — Portfolio Armor (@PortfolioArmor) October 17, 2022
YANG was up nearly 45% since that post, as of Monday's close, with most of those gains coming on Monday, in the wake of the Chinese Communist Party Congress.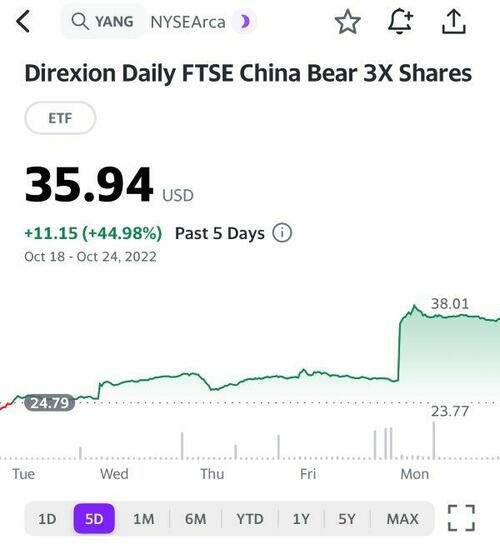 Now on to Mr. Dickwella's post, offering a perspective from the Global South. Following his post, I have a brief comment on his final paragraph.
Authored by Dhanuka Dickwella at Eastern Front
End Of The Old World
China held its 20th Communist Party Congress as is customary for its political system. The most striking aspect of the entire event was not the policies that were adopted highlighting the security, economic & political vision of Communist China for the 21st century, but the forceful removal of the former party boss & country's former president Hu Jintao in broad day light. It was obvious that the event was well choreographed, meant for a global audience & to be recycled in all the news cycles- rinse & repeat. But most importantly it was the ominous message of what will be unfolding in the global arena in near short term basis.
Hu was a symbol of a different China. A China that was more open to the West, like his predecessors Deng Xiaoping and Jiang Zemin. His China was a steadfast believer of rapprochement with Taiwan in means of dialogue. During his tenure, the opening of business to air travel to negotiation platforms stood by his principles in achieving the one China policy.
Hu Jintao's forceful removal from the party congress for the eyes of the whole world thus represents the departure of those approaches. The approach of working closely with the West as well as trusting on negotiations for settling the dispute with Taiwan will effectively come to an end.
The US led collective west is against China on all fronts. From dispatching House speaker Nancy Pelosi to Taiwan to the provocative passage of military vessels through the Taiwan straits to the embargo on the chip industry to weapon sales to Taiwan, the confrontation has no limits. To add to the injury while putting pressure on Beijing relentlessly, the west expects China to be on board its anti-Russian mechanisms.
What we could predict with this backdrop is that China will act in achieving its strategic objectives sooner than later. They will opt for a path that will be completely different from Hu Jintao. There were various predictions that stipulated the time of a possible Chinese invasion on Taiwan. Every indication was more towards the end of this decade.
But China might move on as early as the end of this year. While this is just a speculation, there are reasons to make such. In the European theater, Russians have started to win back the momentum. With the newly mobilized military groups, they could probably bring Odessa, Mykolaiv & Kharkov under their control. European weapons stocks have been depleted, eroded at an alarming rate. Production of the new system is going to be costlier, longer & difficult since Europe has to choose between eating & heating. The United Kingdom is in great chaos & the population has less appetite for any new conflict. Domestic issues seem far more urgent & important. Brits are in dire need of a leader to fix the domestic mess rather than the international chaos. America is vastly preoccupied in Ukraine. They have sacrificed a significant portion of their resources in supporting Kiev. Their military supplies & stocks are being used, destroyed in Ukraine faster than all the Middle Eastern wars. That makes it harder for Americans at this point to fight another multi-pronged war with a sophisticated, armed to the teeth enemy with enormous, untested capacities. Russia is not deterred & willing to fight NATO if it comes to that. This makes fighting against near peer enemies in two ends of the world a nightmare for the USA.
On the economic front, the resource rich countries are clearly in control .OPEC has made its stance as a force that has no interest in aligning with US interest any longer. The proposed Russian oil price cap is almost dead in the water. Russia's economy is still in form while the entirety of the EU is plunging into a prolonged recession. Pro Ukrainian leaders are slowly but steadily getting ousted in the EU & far right movements are crawling in.
Meanwhile China has slowly accumulated forces. Secured enough supplies of uninterrupted energy. Has won conscious support in many global groupings. Namely the BRICS & Shanghai Cooperation Organization. Entered into a number of mechanisms with global powers in using national currencies for transactions. The war in Ukraine & the unbelievable number of sanctions on Russia has given the greatest case study in the history for China to see the capabilities as well as the limitations of the west. How Russia & the world is coping with the new economic , political reality is what the Chinese policy makers must be taking into account.
With the approaching winter many things would take turns. It will bring more chaos to Europe & be bad for Ukrainians in defending their country. Midterm elections seem to be hanging in the balance in America. With such chao , China has probably the opportunity of a lifetime to reach the shores of Taiwan. If one thing is clear with regards to conflicts, looking at the Russia-Ukraine, the timing seems to play a major role. A role that is as important as the weapons systems.
Additionally there seems to be an ideological war at play. The America led west fights to preserve the rules based unipolar system. Russia along with China are determined to change that for good and fighting hard to create a multipolar system. They are coordinating in various different ways to achieve this. When a conflict reaches a level of ideology , it gives a platform for like minded states to join hands. Shanghai Cooperation Organization – BRICS are now at forefront with G7 led west. Taiwan will mark the culmination of this conflict. Just like Hu Jintao was forced out of the power game, the unipolar world is fighting its last battle for survival.
A Brief Comment
Dickwella's analogy of Hu Jintao to the unipolar world (i.e., American hegemony) in his last sentence above reminds me of these tweets by Dennis Dale on the imagery of Hu's ouster:
as if this was staged to symbolize the decrepit US being led out and replaced by serenely indifferent China. — Dennis Dale (@eladsinned) October 22, 2022
https://www.zerohedge.com/news/2022-10-25/what-comes-next-china