Source – kurtnimmo.substack.com
More Evidence Points to US-NATO Sabotage of Nordstream
If you live in Germany, you may want to begin scouting out firewood before winter.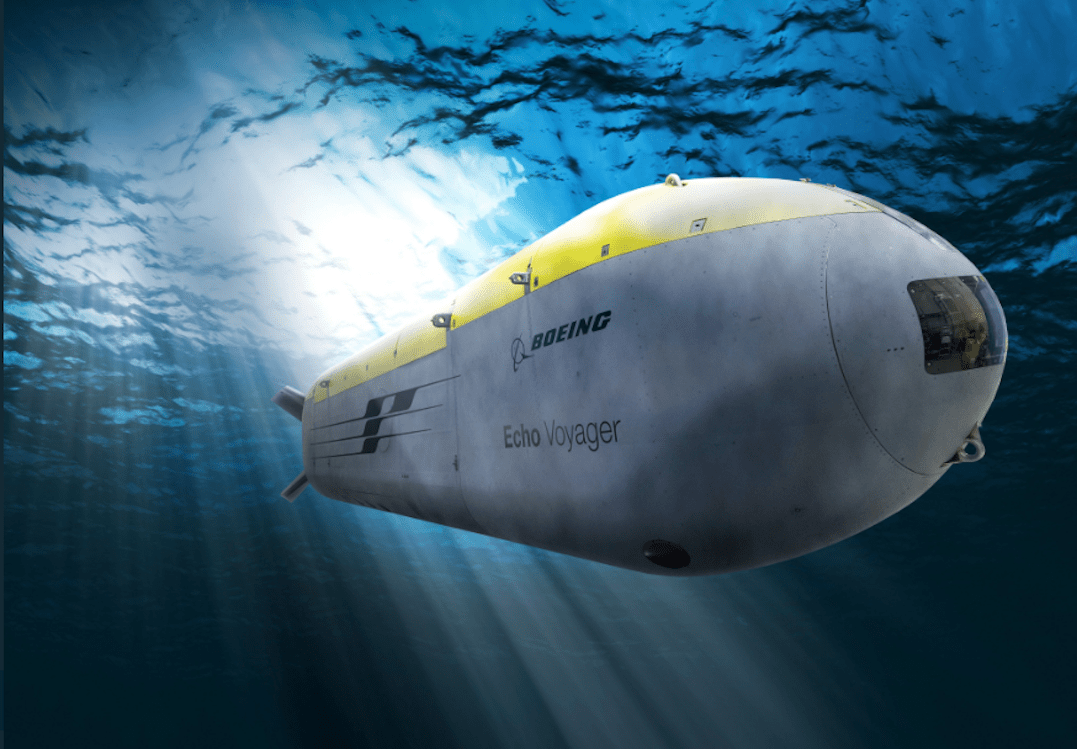 Increasingly, there is little doubt who is behind the Nordstream pipeline leaks, now numbering four. The corporate media is lamely attempting to blame Russia for blowing up its own multi-billion dollar pipeline and its expensive cargo, but as usual, the corporate propaganda media provides no evidence to back this up.
From that oh-so-reliable news source, the Express:
The massive leak in the Nord Stream 1 and 2 pipelines, which many suspected to be an act of sabotage, could be Russia's way of sending a horrifying threat to Europe, experts have warned. They say he has the prowess and firepower needed to damage other pipelines. Over the past few days, four leaks have been discovered along the 1,234km-long Nord Stream 2 pipeline between Russia and Germany. The pipelines, which bypassed Ukraine and Poland by transitting gas via the Baltic Sea, started leaking on Monday, which experts from Denmark and Sweden have confirmed occurred after strong explosions.
Indeed, I am certain Russia does possess such technology. However, so do the US and NATO, both with more incentive to blow up the pipelines than Russia. It doesn't need to do this. Russia can simply turn off the tap on its end, as it has partially accomplished in response to Germany and Europe sending munitions to kill Russian soldiers.
As for the required technology:
professional hog groomer @bidetmarxman
Back in June of this year, NATO conducted its annual BALTOPS military exercise in the Baltic Sea.
This year's exercises had significant focus on using US Navy unmanned underwater vehicles to clear sea mines. September 27th 2022379 Retweets1,281 Likes
BALTOPS is an annual military exercise held in the Baltic Sea. From Naval News:
Participating nations include Belgium, Bulgaria, Denmark, Estonia, Finland, France, Germany, Latvia, Lithuania, the Netherlands, Norway, Poland, Sweden, Turkey, the United Kingdom, and the United States. These countries will exercise a myriad of capabilities demonstrating the inherent flexibility of maritime forces. Exercise scenarios include amphibious operations, gunnery, anti-submarine, air defense, mine clearance operations, explosive ordnance disposal, unmanned underwater vehicles, and medical response. (Emphasis added.)
Moreover, not mentioned by the corporate propaganda media, is the fact BALTOPS was held near the coast of Bornholm, an island off the east coast of Denmark, precisely where the explosions and gas leaks occurred.
The Press United @ThePressUnited
NATO tested underwater drones close to Nord Stream leak zone – Moscow
NATO tested underwater drones close to Nord Stream leak zone – MoscowIn June, the alliance experimented with unmanned subs near the island of Bornholm NATO conducted exercises using deep-sea drones in the area where gas leaks in the Nord Stream 1 and 2 pipelines were detected this week, Russian Foreign Ministry spokeswoman, Maria Zakharova said on Thursday. She added…thepressunited.comSeptember 29th 2022
Coincidence, right? Here's another one, quite naturally not reported:
professional hog groomer @bidetmarxman
In 2015, the annual routine underwater survey of the Nord Stream 1 pipelines came across a remote operated vehicle rigged with explosives right next to one of the lines in Swedish waters. The umbilical cable had been cut. The drone's national origin was never disclosed. 🧵September 27th 2022994 Retweets3,214 Likes
It wasn't disclosed because this explosive-laden device belongs to the US military or NATO (or possibly Sweden, a country begging, along with Finland, to join NATO). If it had been identified as Russian, the morning headlines would be taller than Mount Everest.
Only trade publications reported the strange discovery. Obviously, not many Americans read pipeline technology journals.
The vehicle was discovered during a routine survey operation as part of the annual integrity assessment of the Nord Stream pipeline. Since it was within the Swedish Exclusive Economic Zone (EEZ) approximately 120 km away from the island of Gotland, the Swedes called on their armed forces to remove and ultimately disarm the object.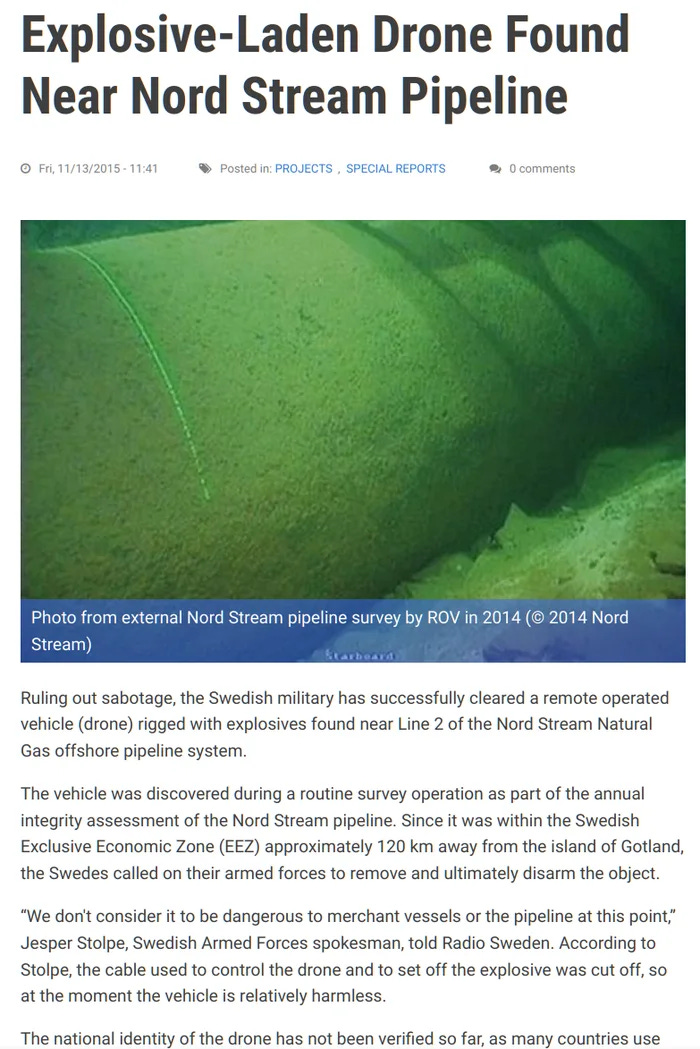 As social media de-platformed analyst Pepe Escobar notes, the development and production of this sort of submersible drone have been on NATO's to-do list for some time. "NATO for its part has been very active on the underwater drones department. The Americans have access to long distance Norwegian underwater drones which can be modified with other designs," he writes.
Meanwhile, the corporate propaganda media is ramping up the "Russia did it" story.
Nord Stream leak: West shores up pipeline security, blaming Russia 'sabotage'
Nord Stream leak: West shores up pipeline security, blaming 'sabotage'The EU, US and Nato say the Nord Stream pipeline leaks appear to have been caused by sabotage.bbc.inSeptember 29th 202285 Retweets319 Likes
Europe pointing at Russia, alleging sabotage for Nord Stream damage – The Washington Post – Russia now sabotaging the world and itself in accelerating #globalwarming ?
E.U. warns of 'robust' response against sabotage after Nord Stream blastsEuropean leaders are increasingly calling the leaks the result of sabotage, with many pointing the finger at Russia.washingtonpost.comSeptember 28th 2022
I'd link to The Washington Post story, but they want money to read their propaganda.
https://kurtnimmo.substack.com/p/more-evidence-points-to-us-nato-sabotage