Source – gizadeathstar.com
'…Never A Straight Answer (NASA) cannot be expected to confirm my wild and woolly idea, but it is intriguing to note that the idea itself provides a convenient weigh station along the route from "nations of concern" to "extra-extraterrestrials" by way of a stop-over at "asteroids" on the Rosin Affidavit. (And for those of you who wonder what that is, Dr. Carol Rosin worked for Dr. Wernher von Braun at Fairchild industries, and alleges that he told her that the game plan to weaponize space would be brought about in stages: first Communism, then terrorists, then "nations of concern," then asteroids, and finally, extra-extraterrestrials. Rosin first disclosed this many years ago for Stephen Greer's Disclosure book"
SM:…I got this one covered – First, phone Bruce Willis….
NASA SET TO CRASH CRAFT INTO ASTEROID TO SAVE EARTH
This story was shared by E.G., and it elicited a bit of a chuckle and a heavy sigh from me. So without my usual preliminaries, here's the story:
NASA spacecraft set to intentionally crash into an asteroid to help save Earth
The mission is called "DART", which in the American rush to make all communication incomprehensible through overreliance on anagrams and abbreviations and their adoption in everyday communications, stands for Double Asteroid Redirect Test (aint that clever?). But wait, there's more; the test is, we're informed, an international test:
The Double Asteroid Redirect Test spacecraft, otherwise known as DART, will be used as a battering ram to crash into an asteroid not far from Earth on Sept. 26. The mission is an international collaboration to protect the globe from future asteroid impacts.
At the rate the USSA is managing to anger allies, I have to wonder what genuine allies we have left, and just who comprises this "international collaboration"; Costa Rica? Ecuador? Belize? Nepal? Andorra? Monaco? Uruguay? Kenya?
Now I mentioned that I had a chuckle from this, and I did. This is, as the article makes clear, the ongoing mission of the Double Asteroid Redirect Test rocket, the first stage having been conducted in 2021 apparently when the mission was actually launched. I'm chuckling, however, because Not A Space Agency (my new nickname for NASA, which is right up there with Never A Straight Answer), can't even seem to get its new moon rocket, Artemis, properly fueled and launched. My immediate thought was that we had run out of German rocket scientists, and that we needed to invade that country and steal some more of them in order to have a functioning space program again.
Anyway, here's the program for the launch, according to the article:
… DART will catch up with the asteroid by executing three trajectory correction maneuvers over the next three weeks. Scientists say that each maneuver will reduce the margin of error for the spacecraft's required trajectory to impact the asteroid known as Dimorphos.

NASA says that after the final maneuver on Sept. 25, approximately 24 hours before impact, the navigation team will know the position of Dimorphos within 2 kilometers. From there, DART will be on its own to autonomously guide itself to collision with the out-of-this-world space rock.
That's the part that induced the heavy sigh, because like the good citizens of Costa Rica, Ecuador, Belize, Nepal, Andorra, Monaco, Uruguay and Kenya, I'll have my fingers cross and be praying that Not A Space Agency doesn't blow it, or do like they did a few years ago, and forget that they were operating in the metric system, and actually wind up redirecting the asteroid to a collision with Earth.
But then the article concluded with, well, an interesting and intriguing picture, and it prompts all sorts of truly high octane speculation that's clean off-the-end-of-the-speculation-twig, and that picture is this: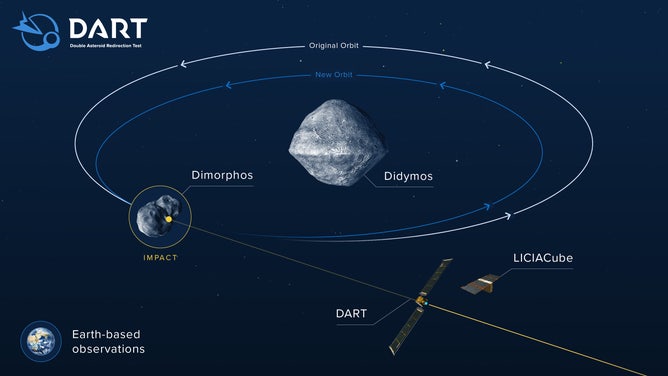 I don't know about you, but the primary asteroid in that double-asteroid system, Didymos, looks uncomfortably unnatural, and rather like two bowls, one of which has been turned upside down and cemented to the other. And along the "seam" line, there also appear to be regularly spaced striations of some sort, as if one might be looking at some sort of manufactured object. Of course, Never A Straight Answer cannot be expected to confirm my wild and woolly idea, but it is intriguing to note that the idea itself provides a convenient weigh station along the route from "nations of concern" to "extra-extraterrestrials" by way of a stop-over at "asteroids" on the Rosin Affidavit. (And for those of you who wonder what that is, Dr. Carol Rosin worked for Dr. Wernher von Braun at Fairchild industries, and alleges that he told her that the game plan to weaponize space would be brought about in stages: first Communism, then terrorists, then "nations of concern," then asteroids, and finally, extra-extraterrestrials. Rosin first disclosed this many years ago for Stephen Greer's Disclosure book.) My point here is that an asteroid that looks like it may be a manufactured object is a convenient mission for Never A Straight Answer, because they can always go back and amend the story, and "disclose" that they were really defending the planet from a real threat.
And interestingly enough, the point of impact on Dimorphos for the mission suspiciously appears right along the "fault line" that distinguishes "morph one" from "morph two" on the aptly-named "Dimorphos," almost as if Never A Straight Answer was actually trying to split the little rock, rather than redirect it, just as a diamond cutter seeks just the right spot to split a rough diamond with a chisel.
One can only hope that my wild and woolly idea is just that, and that Not A Space Agency remembered to put their little plaque, "We come in peace for all mankind" on the probe. (Of course, the plaque will have been updated to reflect all the current wokese, and as such, the plaque itself in all its resulting exhorbitant weight constitutes the entirety of the kinetic impacter, allowing us both to signal to, and to smite, passing asteroids with our virtue.)
See you on the flip side…
Joseph P. Farrell has a doctorate in patristics from the University of Oxford, and pursues research in physics, alternative history and science, and "strange stuff". His book The Giza DeathStar, for which the Giza Community is named, was published in the spring of 2002, and was his first venture into "alternative history and science".