Source – zerohedge.com
"…Since 1972, every single time inflation — as measured by yearly CPI — spiked higher, the Fed followed with tightening. And what happened, each and every time with the exception of 1984, a recession soon followed. This time will not be different"
The Only Soft Landing In 50 Years Was Captain Sully On The Hudson
Authored by Vincent Cignarella, FX & Macro Strategist, Bloomberg,
History does not support the idea the Fed can engineer a soft landing.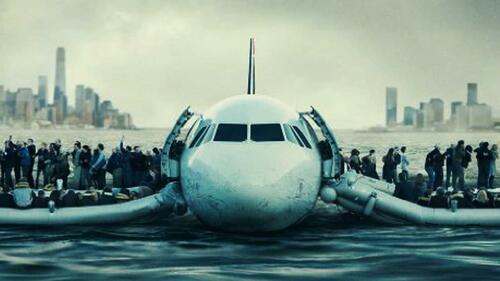 Since 1972, every single time inflation — as measured by yearly CPI — spiked higher, the Fed followed with tightening. And what happened, each and every time with the exception of 1984, a recession soon followed. This time will not be different.
(Also Read: The US Economy Is Headed for a Hard Landing @ https://www.bloomberg.com/opinion/articles/2022-06-22/the-us-economy-is-headed-for-a-hard-landing)
The good news is that after every recession, stocks rallied year-over-year and, with the lower rates that followed, bonds also gained.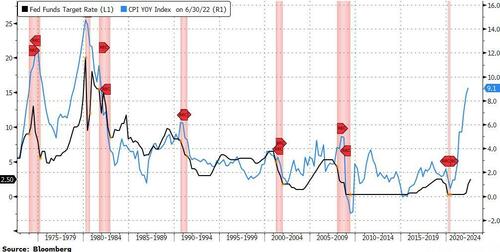 Since January 1991, the Fed has changed the Fed Funds target rate a whopping 91 times. Every time it raises, it has to cut again.
So why is there a 2% target and why, each time inflation rises above it, does the Fed need to orchestrate a recession?

It makes you wonder what kind of growth cycles the economy would have if the Fed just picked a number, stayed there and let market supply and demand set rates
https://www.zerohedge.com/markets/only-soft-landing-50-years-was-captain-sully-hudson
Related…
Michael Burry's Warning for the 2022 Stock Market Crash
Michael Burry (known from The Big Short) is currently predicting a huge stock market crash for 2022. In fact he's predicting a crash on the scale of the dot com bubble and the Great Recession of 2008. In this video, we examine his latest tweets about the U.S. economy, the Fed's loose monetary policy, the looming consumer recession and just how bad the stock market could get.
★ ★ CONTENTS ★ ★ 0:00 How Burry Predicted The Housing Crisis 1:41 Burry Predicts the Inflation Crisis in 2021 3:03 Burry Predicts a Market Collapse 5:47 The Selling Hasn't Even Started 7:06 Learning from History 8:15 A Consumer Recession 10:30 Summary
https://www.zerohedge.com/markets/only-soft-landing-50-years-was-captain-sully-hudson