Source – off-guardian.org
"…Despite news of the first assassination of a former prime minister in postwar history, this time was different. To be sure, most networks provided breaking news coverage until late into the evening. But after midnight, they were back to their regular programing, with some airing late-night comedy shows"
The Abe Assassination – what we know (and don't know) so far
Yesterday, former Prime Minister of Japan Shinzo Abe was attending a campaign event in the city of Nara when a man shot him twice in the back with a homemade shotgun.
Abe was rushed to hospital, still alive, but apparently "unresponsive". A short while later he was declared dead.
Footage of the incident has been uploaded to various video platforms:
https://odysee.com/$/embed/shinzo-abe-assassination-%28best-view%29/07d0f52f3f481c756c6e9534a414e8adfd1018d9?r=5XNeiP7rWYLLQV1X4nE15cFeFS7dJCev
The alleged shooter has been named as 41-year-old Tetsuya Yamagami, an unemployed former-sailor in the Japanese navy. He supposedly used a home-made shotgun, which was retrieved at the scene:
So far no political motive has been claimed – in fact barely any motive at all. Police claim Yamagami has confessed to the shooting, and that he hates "a certain group" with which Abe is affiliated, but have declined the name the group.
Essentially, right now there are lot more unanswered questions than answered ones.
Is there anything that shows the "official narrative to be false? Not yet, that we have seen. But the literal centuries of past precedent say lone lunatics are rarely the latter and never the former.
There's already one familiar trope here, with the suspect having ties to the military, but that is far from conclusive.
Abe has ties to the World Economic Forum of course…but so does every politician of note, really.
However, if that "certain group" is revealed to be the WEF, then this incident can be turned into a warning against "online conspiracy theories" spreading "hate" about financial institutions and so on.
But that's all speculation at this point.
As always with this kind of breaking news, the real story may be the reaction that has yet to happen, and the real truth may get buried as the "official story" is refined and revised over the next few days.
We would invite you to post anything you find of interest in the comments below, or head over to the Corbett Report, where James has opened up one of his trademarked open-source investigations.
Political assassinations – especially of (former) heads of state – are very rare. It will be interesting to see just where this goes.
Behind the Japanese media's peculiar reaction to the murder of Shinzo Abe
Mainstream media outlets have avoided calling the death an 'assassination'
Immediately after former Prime Minister Shinzo Abe was gunned down on Friday morning while stumping in the city of Nara, Japanese media outlets rose to the occasion and provided up-to-the-minute news on the shocking incident throughout the day.
Yet a peculiarity remains. While much of the Western press has described the death of Japan's longest-serving prime minister as an "assassination," all of Japan's major dailies ran identical headlines on their front pages on Saturday: "Former PM Abe dies after being shot." Broadcasters such as NHK and other TV stations have done the same, seemingly avoiding the word "assassination."
Describing the murder of Abe as a "death" may not be inaccurate, but it does not clarify whether his passing was caused by a premeditated attack, an accidental shooting or even collateral damage from a shooting incident.
In recent years, the word "assassination" has only been used by major Japanese media outlets when referring to foreign cases, such as the assassination of North Korea's Kim Jong Nam in 2017, the killing of Haitian President Jovenel Moise last year and the attempted assassination of Myanmar U.N. Ambassador Kyaw Moe Tun, also in 2021.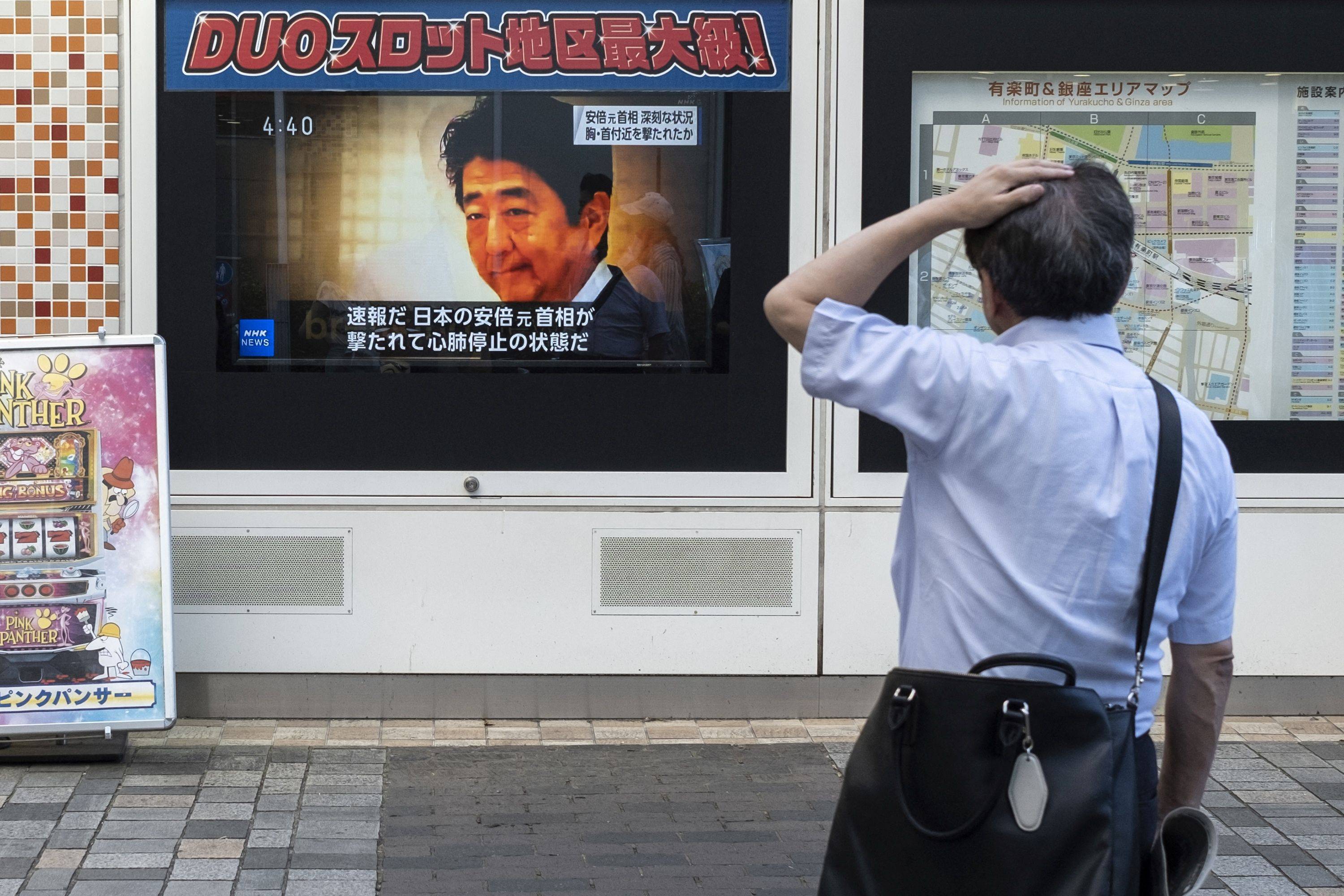 So why are things different for Abe's attack?
"Assassinations were historically unexpected in postwar Japan, and we don't even have a consensus on when it's appropriate to use the word 'assassination' ourselves," a Japanese editor who covered Friday's incident said.
This wasn't always the case. During the 1930s, Japan experienced a series of assassinations and attempts on the life of prime ministers. In that era, headlines first used the word "calamity," and the wording was later replaced by "assassination" as details of the incidents emerged.
The term "calamity" became less common in postwar Japan, and "assassination" was used for the death of world figures such as U.S. President John F. Kennedy, Martin Luther King and Malcolm X.
During the same period, in 1960, the assassination of Inejiro Asanuma of the Japan Socialist Party had been the only postwar murder of a key political figure in Japan to date. But even then, Japanese newspapers called his death an "assassination" in their world news pages but described it as "death by stabbing" in their domestic pages.
"When a foreign dignitary was assassinated, the local expression 'assassin' was used, but when an important person from my country was assassinated, I was at a loss as to how to describe it," the Japanese editor said. "There is no definition in our stylebook as to when to use the word 'assassination' and when not to use it."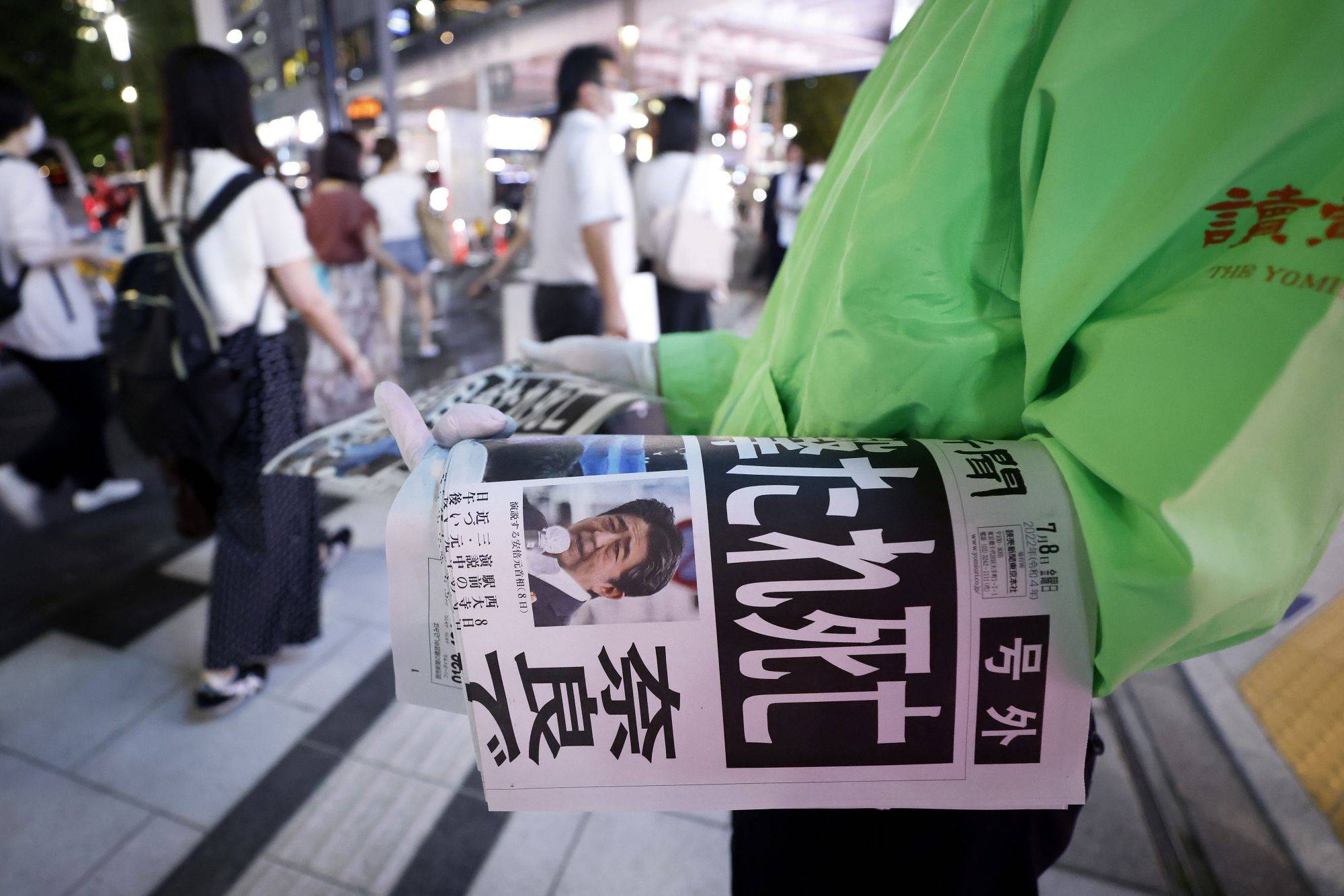 His news organization settled on describing the assassination of Abe as a "death after being shot" after looking at the wording chosen by other Japanese outlets.
Separate from the issue of the word use, there has been another peculiarity in the Japanese media's response to Abe's death.
In the past, major news events — including the Great East Japan Earthquake and North Korean missile tests (before they became common) — drew round-the-clock TV coverage as networks scrapped previously planned programs.
But, despite news of the first assassination of a former prime minister in postwar history, this time was different. To be sure, most networks provided breaking news coverage until late into the evening. But after midnight, they were back to their regular programing, with some airing late-night comedy shows.
A plausible explanation is that with Saturday being the day before voters go to polls for the Upper House election, Japan's mainstream media has erred on the side of caution, refraining from running special programs that could be seen as influencing the vote.
As a result, in the wake of one of the most shocking news events Japan has ever experienced, the public may be experiencing a quiet weekend.
Staff writer Kanako Takahara contributed to this report.
https://www.japantimes.co.jp/news/2022/07/09/national/media-shinzo-abe-assassination/