Source – thefreeonline.com
"…US financed "Gain Of Function Research", is what Dr Fauci was famously prominent in and set up in Wuhan when the US tried to limit him, is the Biologiocal Arms Race. The 'holy grail' of Gain of Function Research is to develop genocidal viruses that only murder your enemy"
5 of US Biowarfare Genocide Labs in Ukraine 'now situated in Russian controlled area'
The excuse for locating their BioWar labs around the world (the US admits having at least 200 of them) is "that it gives more security to US citizens in case of a leak". However this rationale is shown as a joke by the way Covid-19 zipped round the Planet.
(Also Read: US Embassy Quietly Scrubs Existence Of US Bioweapon Labs In Ukraine As Putin Orders Military To Seek And Destroy Them @ https://en-volve.com/2022/02/26/us-embassy-quietly-scrubs-existence-of-us-bioweapon-labs-in-ukraine-as-putin-orders-military-to-seek-and-destroy-them/)
Its clear from the latest maps that at least 5 of the 12 evil, deadly, dangerous, genocidal US BioLabs are now in territory overrun by the Russian military.
3 0f them are just north of Kiev right in the area of the great push south from the border to besiege the capital and ostensibly demilitarize and de-natzify Ukraine. see maps.
map from 23rd Feb 2022. Hopefully the BioWarfare genocide labs were not included in the 'military installations eliminated'.
The fourth appears to be right on the border with Crimea. Its an area the Russians might just hold onto as its ethnic Russian and closed to the Crimean water supply canal wghich has been cut off by Ukraine fir the last 8 years. see maps.
Well U.S. Biolabs in Ukraine must be true because Twitter suspended @::::war::::clandestine account. Someone out there got post on video. Here it is.
Oh wait! We've just spotted 5th BioLab on the map, just north of Luhansk city, which appears to have fallen into Russian hands, or is right on the front line of 'Luhansk Republic' and Ukraine.
We don't know of course whether the US military had evacuated the BioWar labs before the invasion. We suppose the Russians are too responsible to just bomb the labs, which could let loose world genocide. Thet are careful enough not to damage the Nuclear power stations or the many gas pipelines still pumping gas to Western Europe
The excuse for locating them around the world, the US admits having at least 200 such BioWar Labs, is "that it gives more security to US citizens in case of a leak". However this rationale is shown as a joke by the way Covid-19 zipped round the Planet.
BitCoin *Fees more than Block Reward* Sunnydays
Do you trust US who has 25 Biolabs abroad in Georgia, Ukraine, Kazakhstan, Thailand, Laos, Vietnam, Afghanistan, Iraq, Uganda, Tanzania under the strategic decision to shield US citizens from harm in case the labs leak?
US financed "Gain Of Function Research", is what Dr Fauci was famously prominent in and set up in Wuhan when the US tried to limit him, is the Biologiocal Arms Race. The 'holy grail' of Gain of Function Research is to develop genocidal viruses that only murder your enemy.
This may be the real reason for situating the Labs on the Russian borders, where fresh ethnic Russian DNA is available. A similar pattern can be surmised from the placing of the US genocide labs in Georgia, Uzbekistan and in Kazakhstan near Almaty as close a possible to China.
Why are there Biolabs in Ukraine?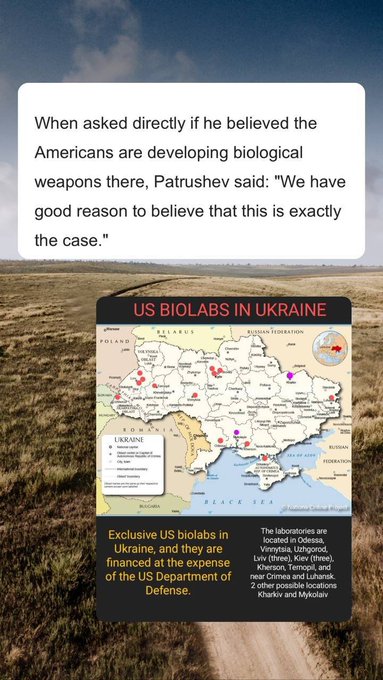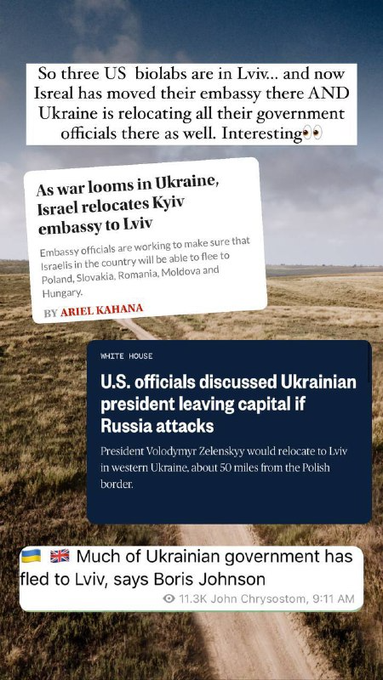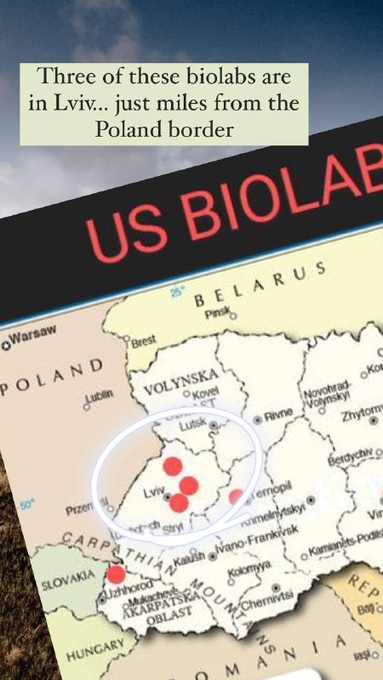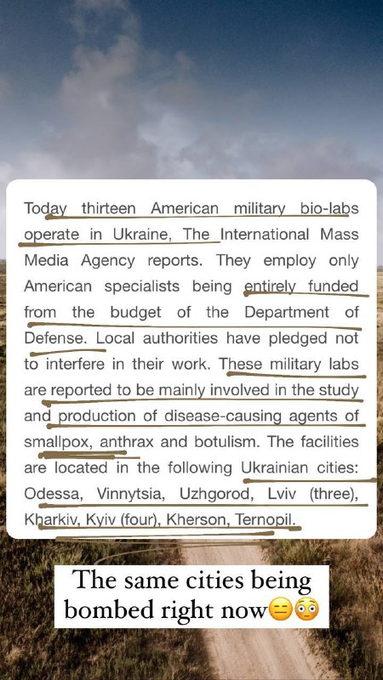 Information and speculation on the US BioWar Labs is now rife on social media. First a report by @WarClandestine showed the US military genocide labs in Ukraine. @WarClandestine was quickly banned from Twitter, but copies had been made and went viral, with more info on the labs in Kaakhstan and Georgia.
Kazakhstan worries about being US-China battlefield as China points fingers to US built biolabs in the country. Article suggests Kazakhs should follow public opinion which is against having either China or the US on their territory https://ehonews.kz/kazahstan-okazalsya-mezhdu-molotom-i-nakovalnej-v-konflikte-ssha-i-kitaya-o-voenno-biologicheskih-laboratoriyah/ ChinaEurasia RT #futur…
This is Madness! '200 Bioweapons Labs in US'.. Must Be Shut Down and Scientists Prosecuted
https://thefreeonline.com/2020/
Bioweapon Labs Must Be Shut Down and Scientists Prosecuted
By Joseph Mercola Mercola.com
May 13, 2020

The idea that SARS-CoV-2 originated in a bioweapons laboratory is gaining traction. May 3, 2020, The New York Times reported1 that during an ABC "This Week" interview Secretary of State Mike Pompeo had stated "the coronavirus originated in a lab in Wuhan." Pompeo also accused China of covering up the leak…………….
Inside The US Government's Top-Secret Bioweapons Lab .,,.L., https://www.youtube.com/watch?v=f1GnYs4LOc0The Dugway Proving Ground is a US government facility that tests some of te deadliest chemical and biological agents on earth. Despite the dangerous experimentation, the facility has had some …US Bioweapons Labs Worldwide are a DANGER to HUMANITY … https://sunflowerchongsunwah.com/us-bioweapons-labs-worldwide-are-a-danger-to-humanity/Spiro Skouras Feb 19, 2020. In this report we take a closer look inside the World Military Games opening ceremony held in Wuhan China weeks before the Coronavirus outbreak.
https://thefreeonline.com/2020/05/14/this-is-madness-200-bioweapons-labs-in-us-must-be-shut-down-and-scientists-prosecuted/.
https://thefreeonline.com/2022/02/26/5-of-us-biowarfare-genocide-labs-in-ukraine-now-situated-in-russian-controlled-area/