Source – summit.news
"…Narrative established in early hours after tragedy falls apart…Kyle Rittenhouse defended himself against a child rapist, wife beater, and pedophile. Darrell Brooks is a registered sex offender who stabbed someone and then ran over people in a parade, killing 5 and injuring more than 40. Guess who the left was more pissed about"
SM:…String up this racist pedophile bastard!…The silence surrounding this deliberate act of terror is deafening. Proving these rabid dogs have no respect for human life – be they White, Black, or the blood of innocent children"
Media Lied, Wisconsin Massacre Driver Was Not Being Pursued by Police
Narrative established in early hours after tragedy falls apart.
Jim Vondruska via Getty Images
Media assertions in the immediate aftermath of the massacre in Waukesha that the killer did not deliberately drive into his victims because he was being 'pursued by police' have been proven completely untrue.
(Also Read: Black Supremacist Darrell Brooks Rapped About Being A 'Terrorist' And Called For Violence Against White People @ https://www.zerohedge.com/political/black-supremacist-darrell-brooks-rapped-about-being-terrorist-and-called-violence-against)
In the early hours after the horror unfolded, the corporate press settled on the narrative that culprit Darrell Edward Brooks Jr was 'fleeing the scene of a crime' after being involved in a 'knife fight'.
BREAKING: CNN reports Waukesha driver who plowed into parade was fleeing another crime scene, not an act of terrorism or retaliation.
This served to diminish Brooks' responsibility for carrying out the massacre and eliminate any possibility that it was motivated by his now proven hatred for white people and support for Black Lives Matter.
How convenient, except that as predicted, it turned out to be false.
As the Associated Press later reported, based on statements by law enforcement, the killer "was not being chased by police at the time of the crash."
Nearly every corporate media ran with the false claim that the Wisconsin massacre driver had been in a knife fight and was fleeing police. This, as the Chief said today in a press conference, was disinformation. Here is WaPo lying. They all lie. All they do is lie.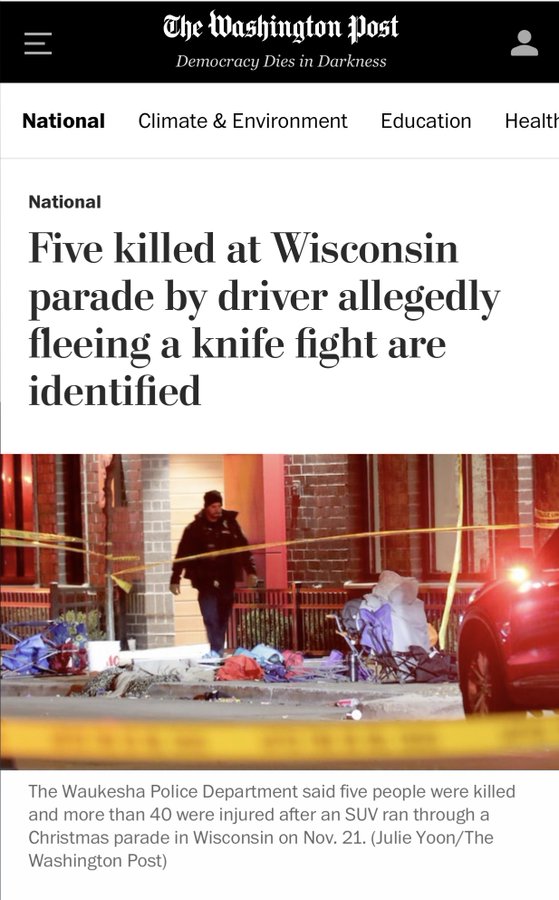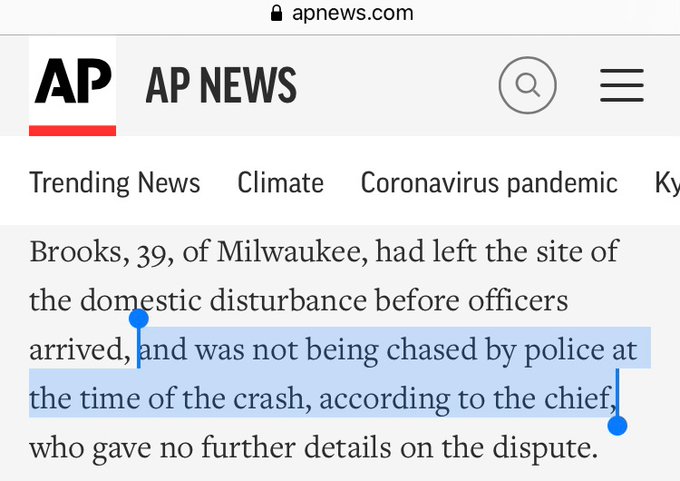 This means that Brooks deliberately rammed into dozens of victims, having decided to take the parade route when he could have turned down a number of less busy roads instead.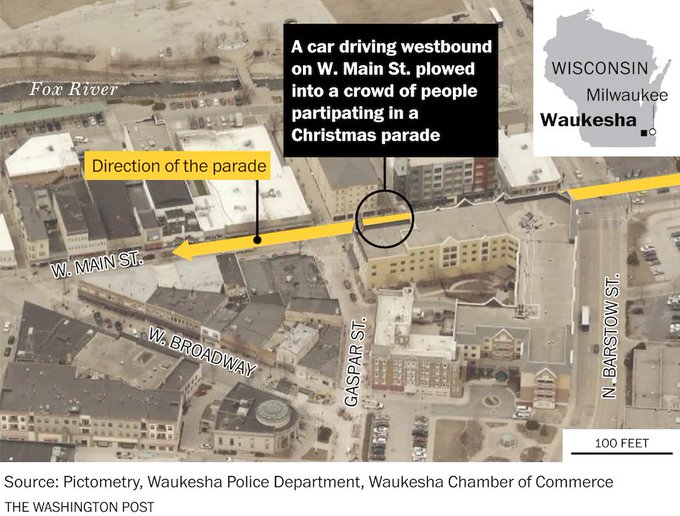 That's why he was subsequently hit with five charges of intentional homicide, with more charges possible.
"Police say the Waukesha killer was not running from cops when he plowed into the parade," tweeted Matt Walsh. "Yet they're sure it wasn't a terror attack. So he intentionally ran down 50 people but we know within 12 hours that he had no political or racial motive? Bullshit."
Eyewitnesses also stated that Brooks deliberately swerved into people when he could have avoided them.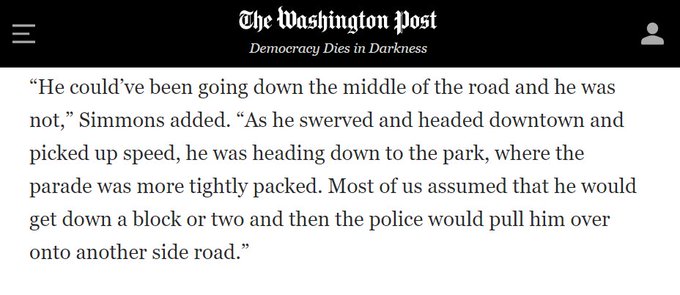 The official narrative still makes zero sense. If Brooks wasn't fleeing the scene of a crime, why did he deliberately drive into dozens of people?
So now the official line from the pro-BLM police chief is that Brooks intentionally murdered the people he rammed, was not fleeing police, but there's still "no indication" it's terrorism despite his background promoting violence against white people?
Kristen Barbaresi
@KristenBarbar
Police Chief: Darrell Brooks acted alone. No indication this is a terrorist attack.
#waukeshaChristmasParade
Observers noted the different treatment the case has received compared the Kyle Rittenhouse legally defending himself from a violent mob.
When a white teen defends himself from pedophiles vs a black sex offender kills 5 and injures 40 by driving SUV into a Christmas parade:
— Kangmin Lee
The same people who told you for 14 months that Kyle Rittenhouse intentionally murdered BLM protesters are now telling you that a career criminal unintentionally ran over a Christmas parade
Kyle Rittenhouse defended himself against a child rapist, wife beater, and pedophile. Darrell Brooks is a registered sex offender who stabbed someone and then ran over people in a parade, killing 5 and injuring more than 40. Guess who the left was more pissed about

Had Darrell Brooks been black, no way police take him into custody alive
The New York Times buried its reporting of the massacre of page 22, which would not have occurred had the driver been a white supremacist (Brooks was clearly a black supremacist).
Wikipedia is also involved in massaging the narrative.
One wonders if a white supremacist (whether deliberately or not) had ploughed into a BLM parade that the New York Times would put the report on page 22.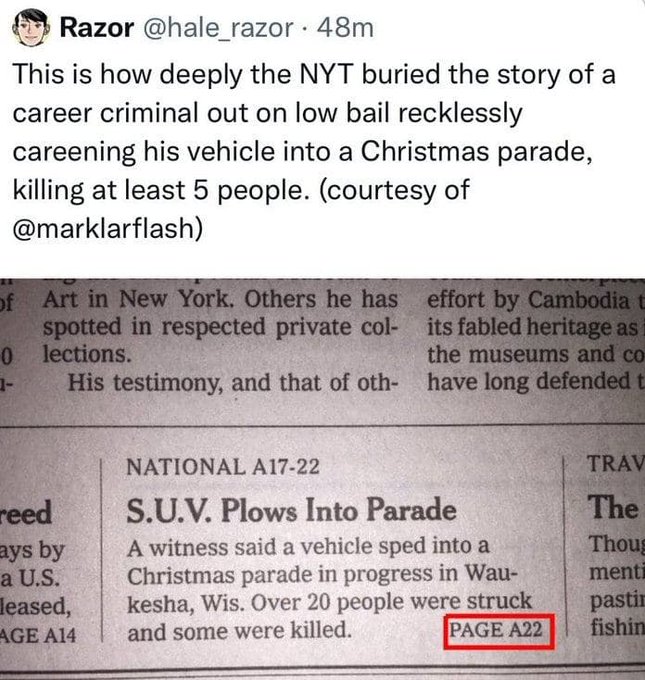 Now watch the story completely disappear from the headlines, as what would be the culprit's clear motive – anti-white hatred whipped up by media hysteria and biased coverage of the Kyle Rittenhouse trial – vanishes into the ether.
———————————————————————————————————————