Source – zerohedge.com
"…Witnesses later confirmed that it had been destroyed by what the insurance industry used to refer to as an "act of God."
SM:…A blatantly obvious contrived act of overt racism by none other than Donald Trump….
Lightning strike destroys George Floyd mural in Ohio
A lightning strike has completely destroyed a mural of George Floyd that was erected in Toledo.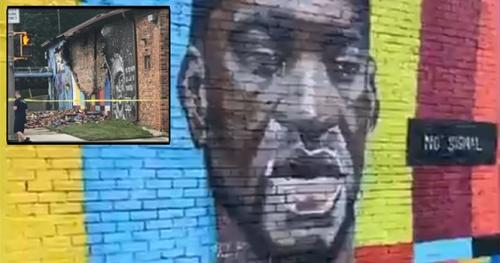 After the mural collapsed, people were initially unaware of the cause, with one city inspector commenting it was "just age – it just came away," noting that the mural had been bowing.
Witnesses later confirmed that it had been destroyed by what the insurance industry used to refer to as an "act of God."
"A mural honoring George Floyd erected at Summit and Lagrange in Toledo has collapsed," reported "13 ABC. "According to Toledo Police, witnesses say it was destroyed by a lightning strike. 13abc's Doppler Radar did show a lightning strike in that block at about 4:30 PM this afternoon.
No doubt if lightning hadn't been quickly established as the cause of the collapse, Black Lives Matter supporters would have begun claiming the incident was some sort of hate crime.
https://www.zerohedge.com/political/lightning-strike-destroys-george-floyd-mural-toledo