Source – rt.com
– "…Millie Weaver is now a political prisoner of the deep state….The rule of law has collapsed in America, and we now have deep state operators pretending to be police officers carrying out arrests, when in truth, they are kidnappers carrying out abductions, much like what happens to political dissidents in communist China"
SM:..If Mike Adam's is correct in his assessment, we now have officially sanctioned, 'rogue' operatives on both sides of the political divide abducting targeted individuals – signifying a whole new dangerous level in this "low-intensity' civil war progressively moving 'hot'…
BREAKING: Millie Weaver wasn't arrested; she was ABDUCTED by the deep state and is being held for possible interrogation – By Mike Adam

We are now living in an era characterized by the total collapse of the rule of law. The deep state is run by lawless, treasonous criminals who will do anything to silence critics and whistleblowers, and when Millie Weaver ("Millennial Millie") began releasing a new documentary film today called "Shadow Gate," the deep state went into action.
According to deep background sources, Millie Weaver was abducted by deep state operators today and is being held under the false authority of deep state operatives. She was not arrested by any lawful process, and there was no legitimate "grand jury" indictment.
Understand that this is a fast-moving story, and new information may help clarify this story as details unfold. But to the best of what we know so far, Millie Weaver is now a political prisoner being held by the deep state.
If these sources are correct, Millie Weaver and her husband are victims of a "snatch-and-grab" operation, and a counterfeit indictment document may have been produced by the deep state, but it would have been created completely outside any legitimate process of law, much like Obama's fake birth certificate.
Millie Weaver is now a political prisoner of the deep state. This is what they do to enemies who expose them.
But as the "Google whistleblower" Zach Vorhies explains, "sorry deepstate. You can't stop what's coming." The files have already been released!
Since her abduction, a multitude of users have uploaded her film to Brighteon.com, the free speech alternative to YouTube. Brighteon.com links have all been blacklisted by Facebook and Twitter, for all the obvious reasons, but you can now watch the full documentary below:
Direct link to Brighteon.com:
Brighteon.com/fde592b6-4efd-415a-8268-f29bf288ac65
Alternative, censorship-resistant link:
Brlghteon.com/fde592b6-4efd-415a-8268-f29bf288ac65
The hashtag #FreeMillie is already trending on social media.
Stay tuned for more updates as this situation unfolds. And understand that the rule of law has collapsed in America, and we now have deep state operators pretending to be police officers carrying out arrests, when in truth, they are kidnappers carrying out abductions, much like what happens to political dissidents in communist China.
We demand Millie Weaver be released.
Related…
Infowars reporter Millie Weaver 'arrested' mid-premiere of her whistleblowing investigation into 'shadow government'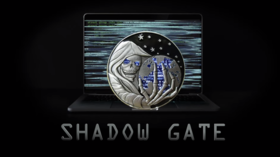 Investigative reporter Millie Weaver and her husband have reportedly been arrested at the same time her documentary on the US "shadow government" was being screened on YouTube, sending Conservative Twitter into theory overdrive.
Weaver's "arrest" at the couple's home – which has yet to be confirmed by authorities – was initially reported by Infowars on Friday, shortly after the YouTube premiere of her documentary film "ShadowGate." The film purports to expose the secrets of the massive 'Deep State' intelligence apparatus manipulating politics within the US and beyond its borders, based on the reports of two private intelligence whistleblowers.
Video of the couple's apparent arrest, shot by Weaver herself, was posted to Twitter by her Infowars colleague Adan Salazar, opening on Weaver asking in disbelief if "a grand jury indicted [her]."
She and her husband Gavin Wince were then supposedly taken into custody after being informed they'd been charged with "burglary." The clip ends abruptly with Weaver urging viewers to "please share this."
Rumors soon emerged that the "burglary" concerned alleged theft of government documents related to the film, but no official confirmation has so far been released.
According to Google whistleblower Zach Vorhies, Weaver was actually arrested before she could release the documentary, but one of the whistleblowers involved, "Tore," released it instead. Her Twitter account @Tore_Says was reportedly suspended immediately thereafter.
Tore soon resurfaced on another account, however, accusing the state of Ohio of sitting on "FALSE CHARGE INDICTMENTS" against Weaver for three months – suggesting the indictment was months-old and the arrest had been deliberately timed to coincide with the film's release.
"We will EXPOSE every single person involved who used a DRUG ADDICT to frame millie," the whistleblower tweeted. In another tweet, she claimed the state's justice system databases had simultaneously "crashed," preventing her from finding out more information on Weaver's case.
A who's-who of conservative media personalities took to social media with questions, theories, and demands for Weaver's release, while #FreeMillie surfaced as a rallying cry.
Some, however, suspected the "arrest" was a publicity stunt to push Weaver's film, pointing to various oddities around the incident. Others remarked that burglaries don't usually involve grand jury indictments. A handful of users even deemed her arrest deserved, claiming Infowars has been calling for violence against leftists.
At least one user made a connection between Weaver's documentary and YouTube's oddly-specific new rule announced on Thursday banning materials the platform believes to be "hacked."
https://www.rt.com/usa/498072-millie-weaver-documentary-arrest-shadowgate/