Source – thetimes.co.uk
– "…The system, he told us, is simple: if your name is on the building where you work you're rich, if your name is on your desk you're middle class, if your name is on your shirt you are "f***ing poor"
Rich Hall's Working for the American Dream (2018)
Rich Hall, the US comedian who resembles a walnut in a cowboy hat, has a word for the boast that America doesn't have a class system. That word is "bullshit". The system, he told us, is simple: if your name is on the building where you work you're rich, if your name is on your desk you're middle class, if your name is on your shirt you are "f***ing poor". Not if your name happens to be Giorgio Armani or Tommy Hilfiger you're not, but I take the point. This is one of Hall's better-known aphorisms and there was plenty more where that came from.
Rich Hall's Working…
https://www.thetimes.co.uk/article/tv-review-rich-halls-working-for-the-american-dream-mortimer-whitehouse-62lwjn9d8
Related…
Rich Hall's Working for the American Dream review – Sigmund Freud in a cowboy hat
The comedian meanders over the Mason-Dixon Line in his attempt to pin down the abstract concept that binds the US together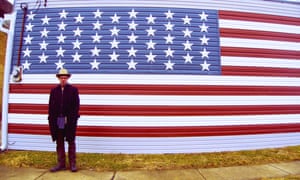 Rich Hall is standing in front of a huge stars and stripes painted on a wall in a cold, grey, sad, post-industrial town in the midwest. He has fired TV missives/missiles from over there before – about his native south, native Americans on the big screen and country music. This time, he is taking on the big one: he is Sigmund Freud in a cowboy hat, and is analysing the American dream.
There doesn't seem to be much of it – the dream – around Lancaster, Ohio, today. It is, says Rich, "the kind of town that even Springsteen wouldn't write a song about. It's that grim." Very little chance of making a decent wage here; of having the chance to work with dignity.
What does the American dream even mean? The idea has been embedded in the US's creation myth since the pilgrims arrived at Plymouth Rock, but the original hard-work ethic – and the very definition of success itself – has mutated over the years from something spiritual to something material to who-knows-what? Still, it's the concrete that unifies Americans, even if that concrete looks seriously crumbly in Lancaster.
To Plymouth first, though, where it all began, and where Hall's dream chasing starts, too. No, "chase" sounds too fast. He may cover the first couple of centuries – from the Puritans and Calvinists whose character and fate were determined by their labours, or so they thought, to the beginning of industrialisation – quite speedily. But then he begins to meander, and I mean that in the best possible way.
He strays across the Mason-Dixon Line, finds out what the American dream meant for cotton pickers, and mill workers, wage slaves and no-wage slaves. He takes in Grant Wood's American Gothic; recreates it, in fact, with his own pitchfork, though he can't re-create the humourless blank look in the couple's eyes – I don't think Rich is desperate to get back to work in the fields, or loading pig iron.
The Great Depression, erosion of workers' rights, Taylorism, false promise, the decline of Detroit … often the American dream looks more like a nightmare. It's not easy to take pride in your work when you don't have a job.
The story is littered with bad dreams, lumpy mattresses and lumpy metaphors. And, again, I mean that in a good way. "As America expanded, more and more Europeans followed, trailing in the celestial prop wash of the floating female godhead of fortune," he says. I think he's talking about the boats they arrived on, and John Gast's painting American Progress, in which a giant ethereal female spirit strides west, stringing telegraph wire as she goes. Whatever, I like it (Rich Hall's proclamation; less so the picture).
As well as art, he wanders into literature ("in a way, we're all not-so-great Gatsbys"), architecture, Frank Lloyd Wright, the arts and craft movement, how modernism finally got to question the American dream – and movies and television.
And he gets waylaid, mainly by his own laconic wit, but also by the need to divulge some not entirely important, but nevertheless fascinating, trivia – such as the fact that many of the now extremely valuable original mission-style oak rocking chairs designed by Gustav Stickley are owned by Barbra Streisand. Or to have a dig at something – Kasabian (justifiably), Butlin's (less so, I think), familiar reference points for us Britons who have never heard of Stickley.
He also – justifiably – lays into self-improvement nonsense, personal growth and positive thinking, and the massive industry surrounding it. Is that what has become of the American dream? Or is it all on social media, where you can create your own fantasy of what it means to be American, without working at all? The American dream: fake news.
Oh yeah, and it has been stolen by politicians, of course. In Lancaster, 78% of the people voted for Trump, "not because they wanted to, but because they're desperate", reckons Rich. Make America great again! Make America great again …
https://www.theguardian.com/tv-and-radio/2018/jul/04/rich-halls-working-for-the-american-dream-review-sigmund-freud-in-a-cowboy-hat